By E Julu Swen
Oct. 26, 2022 | MONROVIA, Liberia (UM News)
From: https://www.umnews.org/en/news/liberians-reflect-on-africa-universitys-impact
In honor of Africa University's 30th anniversary this month, retired Bishop Arthur F. Kulah recalled the 1988 United Methodist General Conference that approved creation of the institution. 
Elected to the episcopacy in 1980, Kulah remembers that while attending his first Council of Bishops meeting, other bishops asked him what the church in Africa wanted.
"I told them that we needed a university in Africa," Kulah said.
Kulah noted that the initial decision was to construct the university in Liberia. Because Liberia was under military rule, however, the church decided to construct Africa University in Zimbabwe.
Grateful for that decision, Kulah said, "When I think about the Liberian civil war and the damage our people did to infrastructures here, The United Methodist Church was going to lose its biggest academic investment in Africa."
He said Africa University was built to enhance quality theological education on the continent.
"In 30 years," the bishop said, "The United Methodist Church has succeeded in educating Africans through Africa University."
AU alumnus Roger S.W.Y. Domah now serves as a representative of the national legislature in Liberia. Domah said he was educated with the Pan-African concept of leadership that encourages putting the interests of others first.
He said students were trained to be the voice of the people on the continent where they were assigned to work.
"Advocacy has been my line of duty since I left Africa University," Domah said.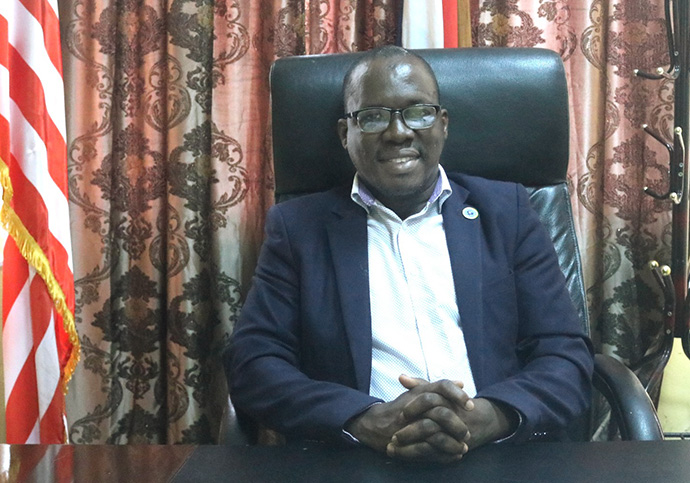 Roger S.W.Y. Domah graduated from Africa University in 2004. He now serves as a representative of the national legislature in Liberia. Photo by E Julu Swen, UM News.
Now chairing Liberia's legislative committee on human and civil rights, Domah said Africa University prepared him to integrate and work with people of all African cultures.
"Africa University," he said, "made all of its students feel at home, whatever their distance away from home."
Since graduating in 2004, he has served The United Methodist Church in Liberia as a pastor, teacher and legislator from Nimba County.
Another Africa University alumnus is the Rev. Henry S. Dolopei. In 2002, he was one of seven students who were sent on a mission to share their Africa University experience with U.S. partners.
"(My involvement) helped to sharpen my experience with Christ, creation and the community," he said. He added that the quality education attained from AU has afforded him the opportunity to compete in professional job markets.
Today, Dolopei serves as pastor of Portland Avenue United Methodist Church in Bloomington, Minnesota. His previous appointment was as associate pastor of Brooklyn Center United Methodist Church, also in Minnesota.
"Though I lived and worked in the U.S.," he said, "the humanitarian training I got from Africa University is part of the reason I am financially supporting … ministry in the Liberia Annual Conference."
Without AU, he said, many Africans would not have had the educational opportunity to acquire quality college and post-graduate education.
Africa University graduate the Rev. Charles Eddie Langama is a guardian counselor at the United Methodist University of Liberia. He credits AU with preparing him to face challenges and meet the needs of others.
"It gave me that Pan-African spirit in a manner that I am able to appreciate other cultures," Langama said. He expressed hope that The United Methodist Church would empower other institutions of higher learning throughout the continent.
Langama would like to see Africa University conduct a continent-wide survey to measure the institution's impact. "The United Methodist Church," he said, "will need that information to help in improving tertiary education in Africa."
As part of its growth and expansion process, Africa University is in partnership with the Wesley House in Cambridge, England, to provide time and space for leaders of theological educational institutions in Africa to achieve the highest level of schooling in their field. The Rev. Jerry P. Kulah, a nephew of Bishop Kulah, said the Africa University professors and the campus facilities are ideal for their studies.
"The contribution of Africa University in this partnership," Kulah said, "is beneficial for those of us who are studying for our doctorates." Kulah is now the vice president for graduate studies at the United Methodist University of Liberia.
Another beneficiary from this partnership is the Rev. James Z. Labala, dean of the Gbarnga School of Theology, part of the United Methodist University of Liberia.
"Though our doctorate program is part-time, and we visit Africa University twice a year," Labala said, "the services offered by the university are culture-friendly."
Return to main story, Africa University celebrates 30 years
Swen is a communicator in Liberia.

News media contact: Julie Dwyer at (615) 742-5470 or newsdesk@umnews.org. To read more United Methodist news, subscribe to the free Daily or Weekly Digests.